Trustworthy Bathroom Remodeling Services
in San Antonio, TX
As a local business, Alvarado's Building & Remodeling, LLC understands that our success comes from the community we serve, that's why we strive to offer only the best home remodeling services to all our customers. Bathroom remodeling is one of the most significant investments a homeowner can make for their property, and we make sure that we provide the excellent workmanship and long-lasting results that we are known for. Remodeling your bathroom can yield a lot of benefits, such as improved overall comfort, enhanced appeal and increased home value. So don't hesitate to call us for your bathroom remodeling needs!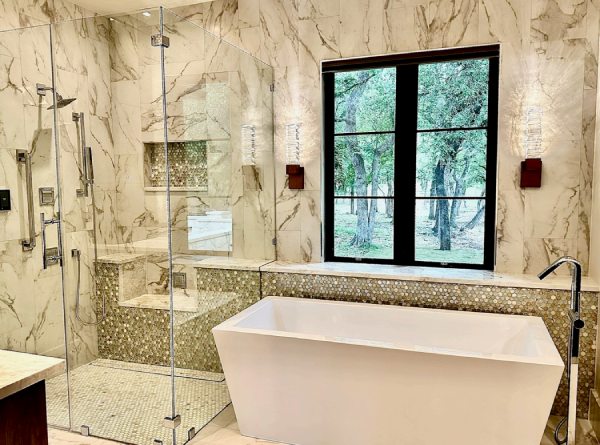 What You Should Look For in a Bathroom Remodeler
While there may be a lot of local bathroom remodelers around San Antonio, TX, it's important to know what qualities to look for. A good contractor can significantly reduce future maintenance costs and save you a lot of money while creating the bathroom of your dreams.
When searching for a bathroom remodeling contractor, it's essential to consider several crucial factors. Experience and expertise are a must. Look for a contractor with a proven track record in bathroom renovations, as their experience will ensure a higher level of craftsmanship and problem-solving abilities, just like Alvarado's Building & Remodeling, LLC!
It's also important to check their credentials, such as licenses, insurance, and any relevant certifications, to ensure they meet the necessary legal and professional requirements. Additionally, reputation and references play a significant role. Read reviews, testimonials,and seek references from past clients to gauge the contractor's reliability, communication skills and overall client satisfaction.
Detailed contracts and estimates are essential as well, as they outline the project scope, timeline, payment terms and any warranties or guarantees. Clear communication is key, so choose a contractor who actively listens to your ideas, understands your vision, and communicates openly throughout the process. Assess their design skills by reviewing their portfolio and ensure they align with your preferences. A reliable contractor like us should be knowledgeable about local building codes, acquire necessary permits and work within legal and safety standards.
Project management capabilities, including scheduling, coordination and problem-solving, are vital for a smooth process. Inquire about warranties and post-completion support to ensure your investment is protected. By carefully evaluating these factors, you can select a bathroom remodeling contractor who will deliver high-quality work, communicate effectively and make your renovation experience a successful one.
Request a Bathroom Quote!
When it comes to your bathroom remodeling project, don't settle for less! Let the professional and passionate team of Alvarado's Building & Remodeling, LLC help you achieve your home remodeling goals. With over 30 years of experience, our team can handle any remodeling job you have in mind.
Request a bathroom quote by calling us at (210) 934-6228 or filling out our contact form.